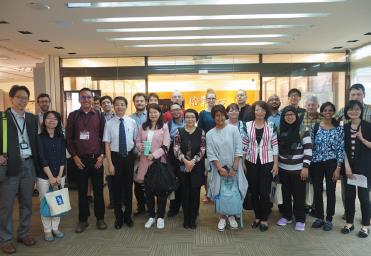 Every year, the National Central Library (NCL) organizes a one-day program of activities familiarizing visiting scholars with Taiwan's academic resources and explaining how to utilize them. The first program of 2019 took place on April 11. In the morning, scholars attended a session on using the resources available at the library. This was followed by an afternoon visit to the National Archives Administration (NAA).

Around 30 scholars attended the day's activities. In the afternoon, the scholars paid a visit to the NAA, where they were met by the NAA chief secretary, Mr. Yen-sheng Hsieh. Section Chief Ms. Ya-huei Wei then gave them a tour in English of the rich collection and resources held in the archives and explained how to apply for archive access, request documents, and deal with authorization issues. She also took them to view the NAA's permanent and current exhibitions.

During the visit, the foreign scholars eagerly asked questions and affirmed the overall direction of development taken by Taiwan regarding archive management and openness. They were able to ascertain the likely benefit and value of the collections held by Taiwan's institutions to their research. They said that they would share the experience of their visit with colleagues upon returning to their home countries.